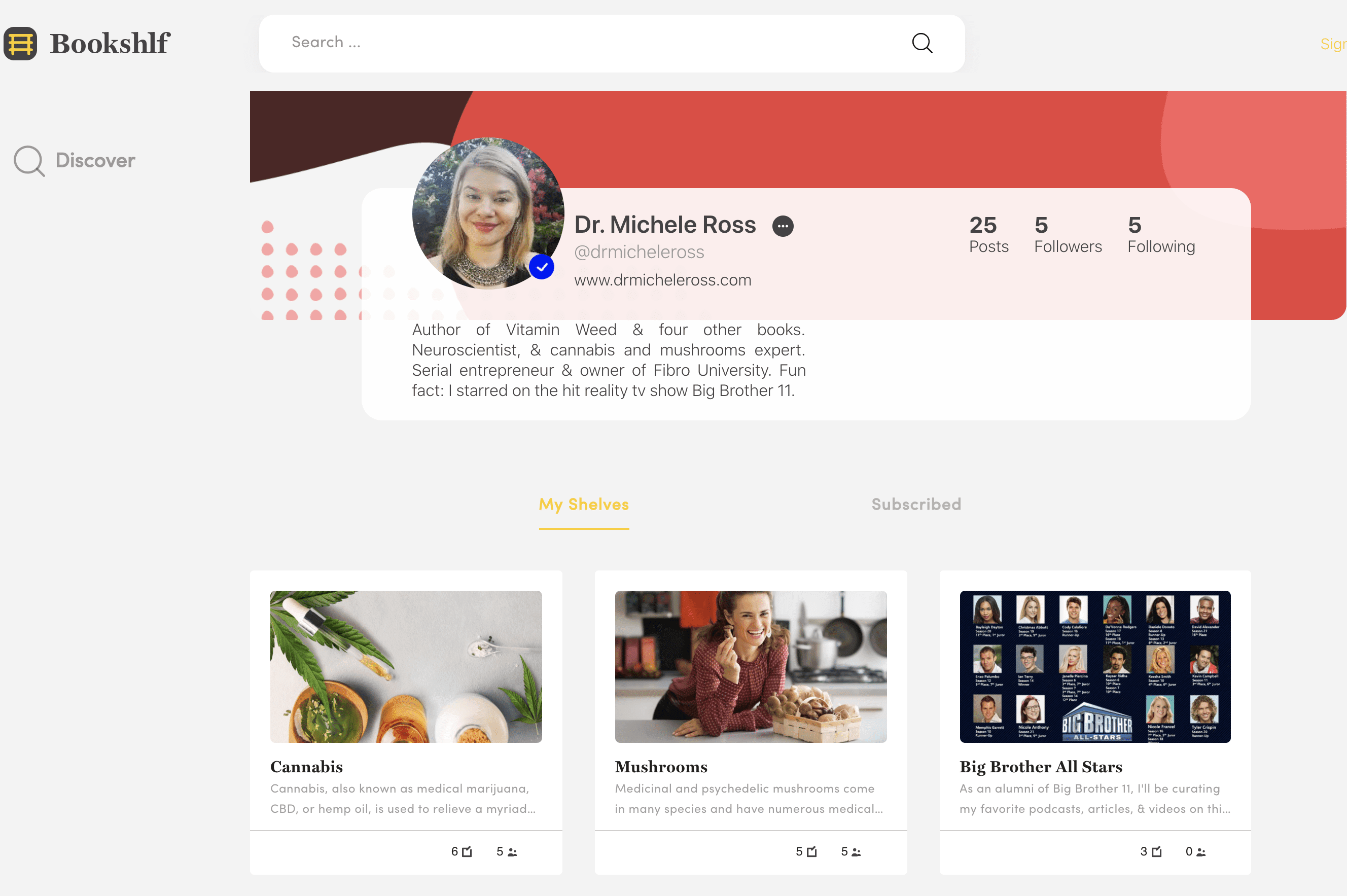 I found a new social network that doesn't suck. It's called Bookshlf, and it's like your actual Bookshelf, but for digital content. You can easily save and organize any type of media, from podcasts to books to videos to articles, onto your Shelves.
Bookshlf is available as a free app online or for download in the App Store to your iPhone or iPad. And don't worry, there aren't any additional upgrade or subscriptions you need to pay for to make it functional. You can watch the video below to learn how it works.
How I would describe Bookshlf
So what it Bookshlf most like? For me, it really seems like a cross between Twitter and Pinterest, where I can save the best of media I care about quickly & easily without it getting lost in the tens of thousands of tweets I have posted. Plus, it's easier for my followers to find just the content they want, since I have such a broad range of interests (Big Brother versus cannabis versus politics versus keto diet).
You might call Bookshlf a Facebook for media, a Goodreads for more than books, a LinkedIn without the constant recruiter or salesman spam and job searching, or an Evernote social network. Bookshlf is a social network for grownups, and it is high value.
Let's connect on Bookshlf
Bookshlf is relatively new and growing, and I'm excited to see the new features it develops and how the network matures. Any social network becomes more fun when there are more users (and you have more followers), so I invite you to follow my profile or subscribe to one my Shelves of interest. I'll be following back the first 25 users to follow me after I publish this post!
Sifting through the noise
There is more information out there on the internet than ever, as seen by the explosion in podcasts, Youtube videos, and blogs. It can be hard to sift through all the mediocre or self-promotional content to find the gems, and on other social networks, the most "shared" content doesn't mean the highest quality content due to people just reading headlines.
What I love about Bookshlf is that people are very intentional about sharing their content gems when they find them, instead of focusing on sales of their own products or posting for likes.
A less toxic Facebook
Another thing I love about Bookshlf is the lack of comments on your posts prevents the toxic conversations we see on Facebook, Instagram, and other platforms. When you share your favorite podcast or political article, no one is going to say you suck, cannabis users are going to hell (true story), or start a completely random comment thread under your post. But that doesn't mean Bookshlf isn't social.
Bookshlf is easy to use
There's no learning curve to using Bookshlf and you can get started curating your Shelves right away with content like books and recipes. Bookshlf is in fact, a social network, and hashtags on posts make it easy to find posts and Shelves you're interested in.
You can "like" a post on Bookshlf by click the "lightbulb" icon, and you can save a post to your own queue so you can check out the links for later. You can even repost a post you like to your own Shelf, similar to retweeting on Twitter or repinning on Pinterest.
Why Bookshlf is great for thought leaders
For me it's exciting to be able to share my diverse interests with a new audience on Bookshlf without having to make fancy pins in Canva each time for Pinterest (time-consuming and tedious) or create instastories for Instagram that get deleted in 24 hours (I don't have time for animated emojis and dog ear filters).
I'll be posting regular to each of my Shelves and growing them. I just got started this month, and I'm looking forward to seeing what's on your Shelf. Download the app and start saving and sharing. You can even DM me! See you on Bookshlf!
Pin This Post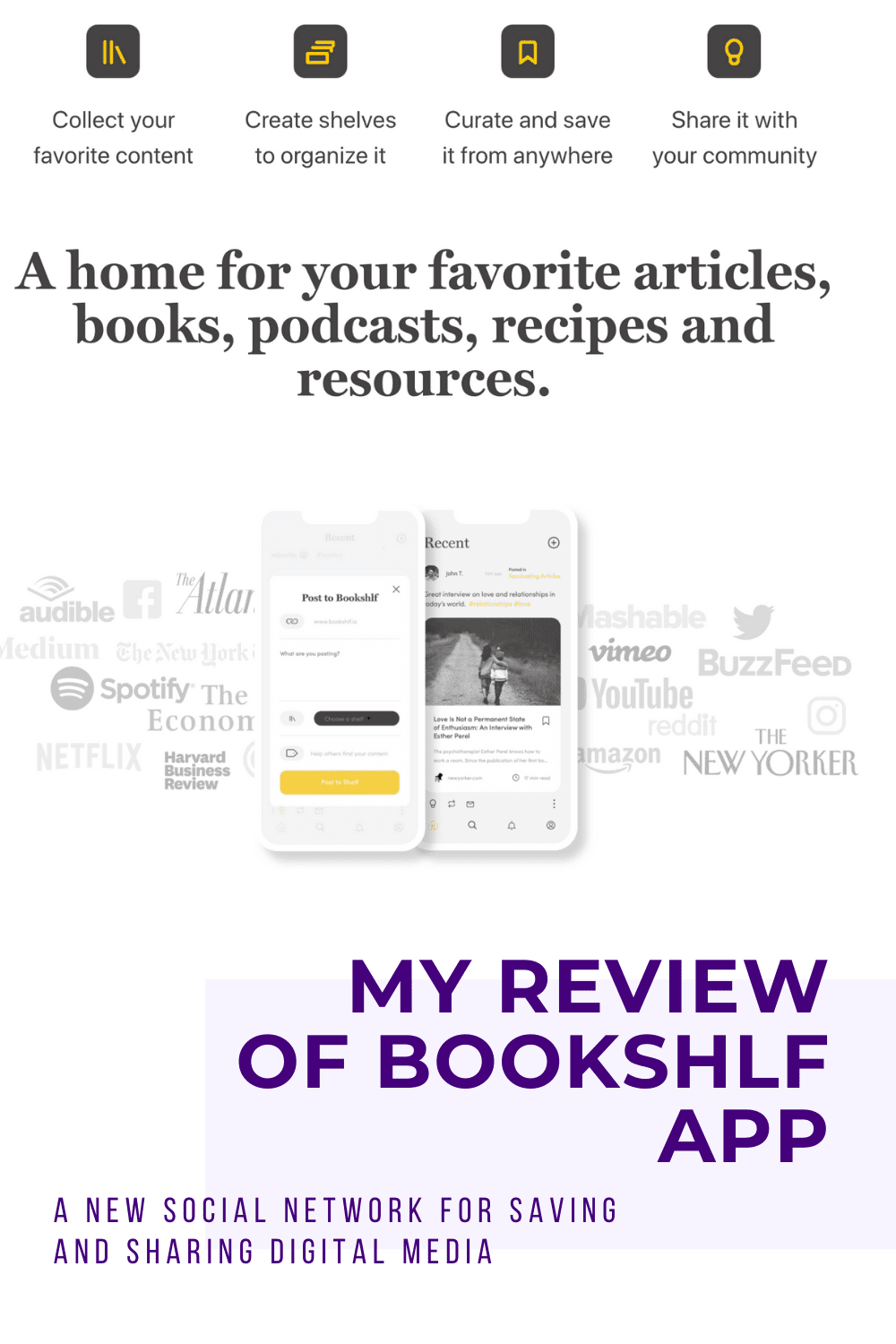 Share This Post