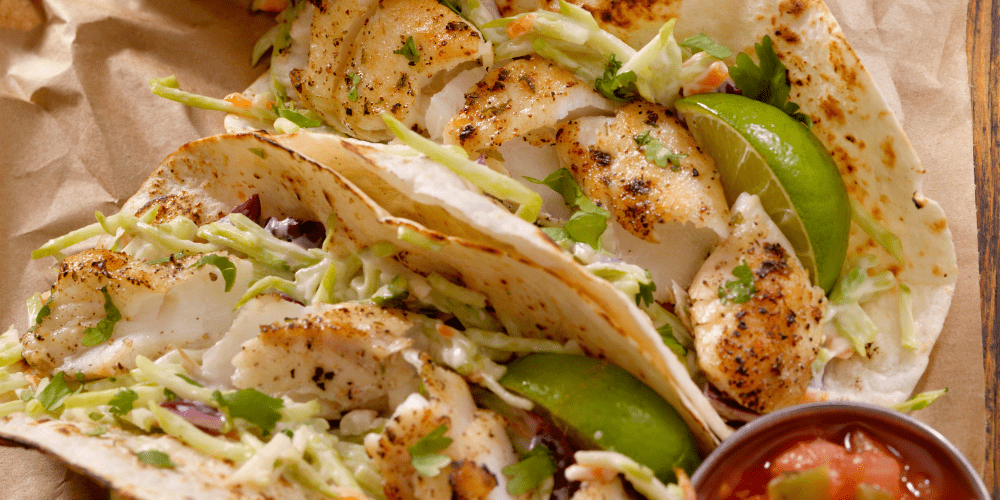 Fish tacos are my favorite kind of tacos, and I have an easy recipe to make them cheap at home. My personal choices for fish are halibut, tilapia, mahi mahi, snapper, cod, bass and catfish, as they are inexpensive and mild flavored. You can grill, steam, or mix them with a flavorful batter to fry. The flavor of the fish adds zest to the dish, but what takes center stage is the toppings. A mixture of strong blends from onions and chiles, tangy mayonnaise, citrusy lemon and the mild flavor of fish balances the taste.
Fish is rich in omega-3 fatty acids that keep our brain and heart healthy. When you mix them in tacos, they become so special.
Fich Taco Ingredients
Buy seafood in a fish market to get hold of the freshest fish catch of the day. While at it, go shop for freshly picked veggies from the farm and the other ingredients for your fish taco.
Cabbage slaw
3 cups green cabbage (300 g), shredded
½ cup red onion (75 g), diced
1 cup sour cream (230 g)
1 lime, juiced
¼ teaspoon salt
Tacos
4 tilapia fillets
¼ teaspoon cayenne pepper, ground
½ teaspoon garlic powder
½ teaspoon cumin
½ teaspoon salt
½ teaspoon pepper
16 corn tortillas
Garnish
cilantro, to taste
lime, to taste
Preparation
The three components I consider most important in fish tacos are the fish, cabbage, and the cream. Other ingredients are adaptable, but these three are inseparable.
Cannonball or purple cabbage works well for fish tacos. Take time to shred the cabbage as thinly as you can.
Dice the onions and extract juice from the lemon.
In a mixing bowl, combine cabbage, onions, lime juice, sour cream, and salt. Place in the chiller before serving.
Turn the stove to medium heat cooking 2 tilapia fillets for about 8 minutes flipping it when the color turns brown. Don't overcook, it will leave a burnt taste. Repeat procedure for the remaining fillets.
Break the fillets into bite-size pieces with a fork.
Heat the tortillas in a pan over high heat.
Assemble the tacos with the cabbage slaw and tilapia.
Top it off with cilantro and lime.
Want to kick up the healthy factor up a notch? Drop some CBD oil or even THC tincture onto the tacos.
Bon appétit.
Fish Tips for Fish Tacos
Almost any type of fish tastes well with fish tacos depending on your preparation. Fish meat that is white, flaky, and mild flavor is popular among recipes. Along these lines halibut, haddock tilapia, mahi mahi, snapper, cod, bass and catfish fall under this category.
But the type of fish hangs on the kind of fish tacos you're making, whether it's fried, steamed, or grilled. Thinner slices will cook faster and taste better with marinade.
Fried fish tacos
Cod and tilapia fries well when battered and the mild taste complements the crunchy, spicy, creamy ingredients in the corn tortilla. Other fish that cook well in the deep fryer includes pollock, haddock, striped bass, snapper, and catfish.
Grilled fish tacos
If you don't want oily food, you can grill your fish. Season or marinade the fish to spike the flavor as it turns brown and crisp on the grill. A fish that won't break under high heat is a good choice. Aside from cod and tilapia consider tuna, salmon, and swordfish which are fattier. Halibut with steak-like meat is another option.
Avoid overcooking, fish cooks quickly and cooks a bit more off the grill. When the meat starts to flake with the fork, the fish is ready.
Taco Toppings Are King
The magic of tacos come from good toppings. A bit of trial and error on your ingredients will turn your fish tacos from good to great.
The traditional cabbage and pico de gallo are must-haves. Pico de gallo is made with fresh tomatoes, cilantro, onions and jalapeño. Although it has the same ingredients as salsa, the latter is saucy with more liquid. The ingredients of salsa can be cooked, roasted, and uncooked spices, tomatoes, pepper and others. The ingredient of pico de gallo does not vary.
You'll love fish tacos with chopped avocados and a sprinkle of cheddar cheese with a squeeze of lemon to taste.
You Can't Go Wrong with Fish Tacos
Fish tacos are healthy, ingredients are fresh, and rich in flavors. Easy to prepare goodies for people always on the go. In less than 30 minute you can concoct your favorite toppings loaded with cream and top it off with cheese, if you will.
Pin This Post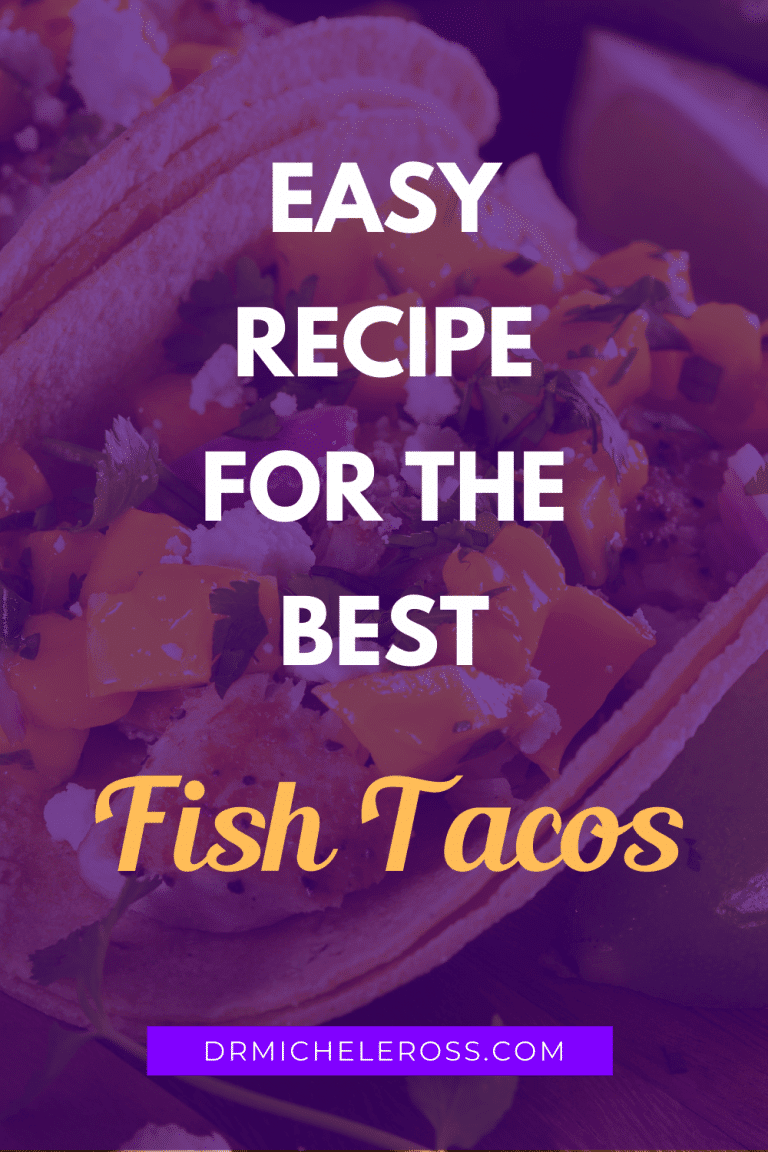 Share This Post