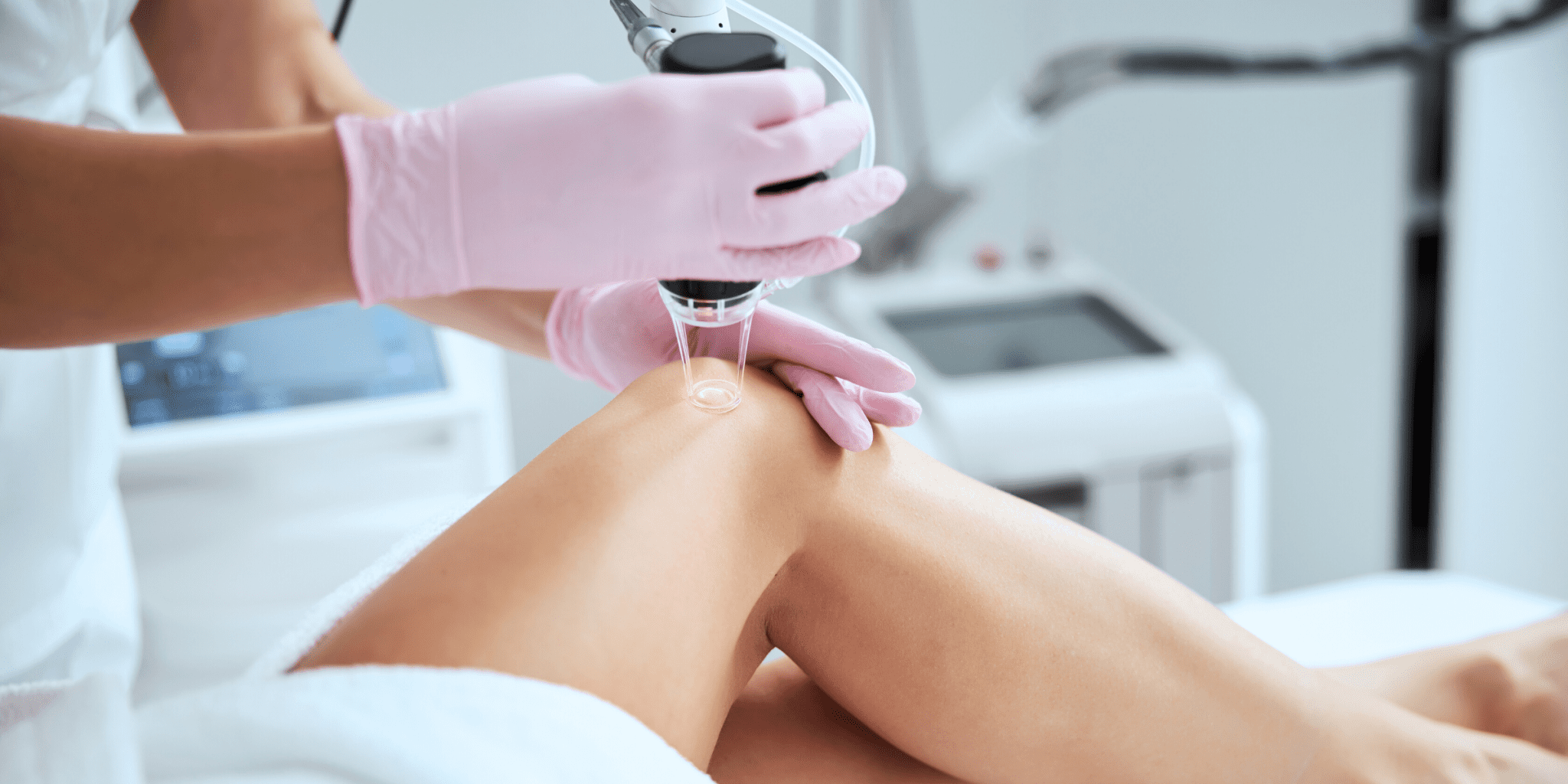 Did you know that spider veins are a mild form of varicose veins? Their name refers to their irregular, spider-like shape. Although they are generally harmless and mostly considered cosmetic problems, spider veins can be associated with other conditions.
If you are concerned about the appearance of spider veins, the good news is that several minimally invasive and painful treatments are now available to remove them. In this blog, you can learn more about spider veins and the treatments available. You will also find information about lifestyle changes you can make to prevent their appearance.
What are spider veins?
Spider veins (also known as telangiectasia) are small blood vessels that are permanently dilated. The dilation causes them to be noticeable on the surface of the skin. They appear as irregular, thin, reddish, spider-like lines. Spider veins can occur anywhere on the body but are most common on the legs, feet, and face.
Spider veins are a common condition that is usually not dangerous and do not cause symptoms but can improve with treatment. Some people choose to treat them for cosmetic reasons.
6 causes of spider veins
Spider veins are caused by several factors, including:
a) Age. As we age, the walls of the veins and capillaries become weaker and have more difficulty transporting blood. A continued accumulation of blood can cause the blood vessels to dilate and spider veins to form.
b) Sex. Women are more prone to spider veins due to hormonal changes during the reproductive stage and pregnancy.
c) Genetics. You are more likely to develop spider veins if you have a family history of circulation problems.
d) Excess weight. Excess weight puts more pressure on your legs and increases the likelihood of spider veins.
e) Lifestyle. A sedentary lifestyle, sitting or standing for long periods, and wearing tight-fitting clothing all promote the appearance of spider veins.
e) Sun exposure. Prolonged exposure to the sun contributes to the formation of spider veins.
Differences between spider veins and varicose veins
They can vary in size but are distinguished from varicose veins by their spider-like shape. Both spider veins and varicose veins are different degrees of venous insufficiency. However, spider veins are smaller because they dilate capillaries closer to the skin's surface.
In contrast, varicose veins are swollen, dilated veins that can become painful. Both conditions can improve with treatment, but varicose veins are more severe and may require surgery.
Spider vein treatment options
The proper treatment for you will depend on the number and size of the spider veins and the area in which they are located. There are currently a variety of treatments available to treat spider veins. Below you will find some of them:
Sclerotherapy for spider veins
It consists of a therapy based on injections similar to the one used to treat varicose veins. In this treatment, a very thin needle is used to inject a solution into the spider veins so that they close. When they close, blood stops flowing through them, and over time, they disappear.
Sclerotherapy is a safe and effective treatment that can be performed in a doctor's office and, in most cases, does not require hospitalization. Depending on your condition, it may require several sessions, each lasting 30 to 45 minutes.
Side effects of sclerotherapy are infrequent. As with any procedure, there is a chance of infection. Some people may have allergic reactions to the injected solution or have small but permanent scars in the treated area.
Endovenous laser therapy
In this procedure, a high-intensity laser generates heat in the spider veins. The heat produced causes the capillaries to close and fade over time without damaging the surrounding tissue. During this treatment, you may feel a slight warming sensation in the treated area, and each session lasts approximately 45 minutes.
Laser therapy does not disrupt the patient's life, as they can resume normal activities after treatment. Generally, fewer sessions are needed with this therapy than with sclerotherapy, and its side effects are more infrequent. The number of sessions will depend on your condition, but you will quickly notice changes. Some recommendations after treatment include sun exposure and avoidance of hot environments.
Home remedies and lifestyle changes
You can make several lifestyle changes to prevent the formation of spider veins. Some recommendations are:
a) Exercise. Lack of activity causes the appearance of spider veins and varicose veins, especially in the legs. Exercise improves blood circulation and prevents blood from accumulating and deforming the walls of blood vessels.
b) Use compression stockings. These are specially designed stockings that apply regulated pressure to the legs. Compression stockings gently compress the blood vessel walls, lowering blood pressure and boosting blood circulation.
c) Elevating the legs. After periods of inactivity, elevating your legs will promote blood circulation. Elevation will prevent blood from flowing against gravity so it can circulate without further effort.
Choosing the right treatment
It is up to a specialist to choose the most appropriate treatment to treat your spider veins. Only they can determine which treatment is most effective and safe for you. You must consider the following factors when selecting a doctor to treat your spider veins:
– The doctor's training. Should be a specialist in blood vessel diseases.
– The doctor's experience. They should have experience in the treatment of spider veins.
– The location of your clinic. Choose a specialist close to where you live to make it easier to attend medical appointments. Remember that treatments may require several sessions. You can start by doing an internet search and include your location; this will narrow the search. For example, you can search for "vein specialist located in Dallas, TX."
Factors to consider when deciding on treatment
The vein expert evaluates several aspects of your disease before recommending the best treatment. An expert considers the following factors:
a) The severity of the problem
b) The cause of its formation
c) The location of the spider veins
d) The potential risks and side effects of the treatments.
e) Your treatment preferences
You must consult a spider vein specialist because only they can determine the cause of the problem and whether or not this condition is a symptom of another disease.
Conclusion
Spider veins can be a cosmetic nuisance for some people. Currently, several treatments can reduce the problem and improve the condition of your skin. Treating this condition in early stages can avoid later discomfort, and the treatments will be more effective.
Remember that only a specialist can recommend the treatment that best suits you. Consult with your specialist so that they can provide you with more information on how to prevent the appearance of new spider veins in the future.
Pin This Post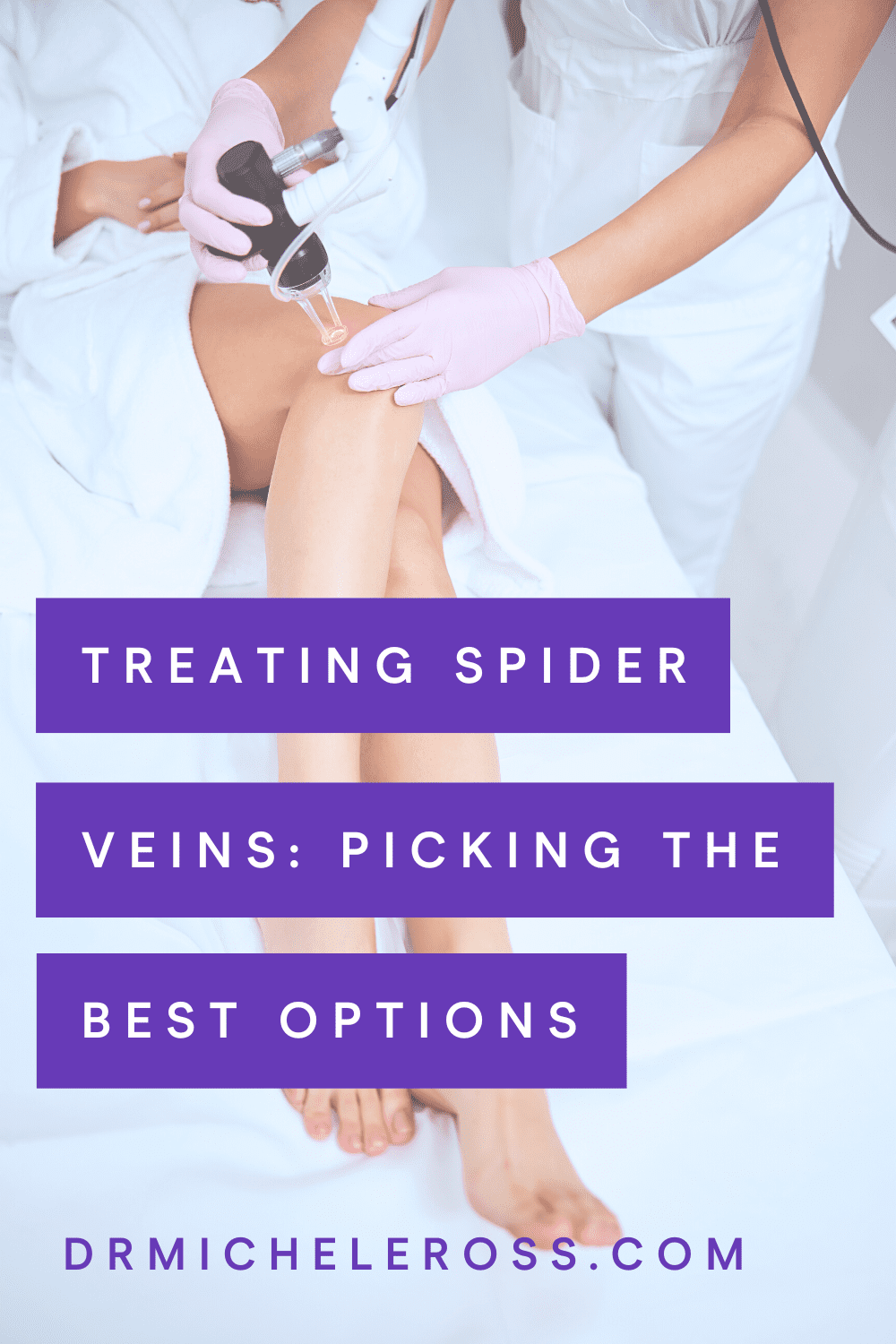 Share This Post